Cinema program "Yuku and the Flower of the Himalayas" in Kraków
No showtimes for movie "Yuku and the Flower of the Himalayas" for today
Choose other date from the calendar above.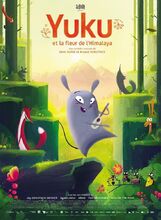 Original title:
Yuku et la fleur de l'Himalaya
Runtime:
62 min.
Production:
Belgia/Francja , 2022
Release Date:
13 January 2023
Distribution:
Nowe Horyzonty
Directed by:
Arnaud Demuynck
,
Remi Durin
Cast:
Lily Demuynck Deydier
,
Agnes Jaoui
,
Arno
Myszka Yuku mieszka z rodziną w piwnicach zamku. Pewnego dnia dowiaduje się o tym, że jej babcia potrzebuje magicznego kwiatu z Himalajów. Zwierzątko szybko podejmuje decyzję – trzeba ruszyć w drogę i go znaleźć!
Zanosi się na przygodę pełną wrażeń! W lesie zdającym się nie mieć końca można się zgubić, a wszędzie czyhają obce zwierzęta. Yuku ma jednak silną motywację, żeby trafić do oddalonych szczytów. Gdy jej babcia otrzyma legendarną roślinę, zazna szczęścia i wiecznej światłości. Nieoczekiwaną pomocą dla myszki podczas wędrówki okażą się piosenki grane na ukulele i zagadki, które usłyszała podczas rodzinnych wieczorów spędzonych w zamkowych piwnicach . Dzięki nim po jej stronie staną Lis i Lisica, a także Królik. Najgroźniejszy rywal, czyli Wilk pilnujący gór, może okazać się nie taki straszny, jak go malują!
Movie trailer: Yuku and the Flower of the Himalayas